Carpet Cleaning in Hoboken, New Jersey
Carpet Cleaning Hoboken, Jersey City, Weehawken, North Bergen and Edgewater

Maid in Hoboken Carpet Cleaning Services
Maid in Hoboken offers complete carpet cleaning services for clients in Hoboken, Edgewater, Jersey City, Weehawken, North Bergen and West New York. With state-of-the-art carpet cleaning machinery, Maid in Hoboken provides the best carpet cleaning services available in the tri-state area. Maid in
Hoboken carpet cleaning
specialities include:
Spot and Stain Removal
Pet Stain Removal
Odor Removal
Professional Deep Carpet Cleaning
Wall to Wall Carpet Cleanings
Sanitizing
Disinfecting
Move-out carpet cleaning
Move-in carpet cleaning
We are proud of our success as the
best carpet cleaning service in Hoboken
, and we base this on a few solid principles that we enthusiastically endorse:
Responsive and reputable carpet cleaning services
Consistent, quality carpet care with guaranteed customer satisfaction
Highly-trained technicians who are professionally screened and never subcontracted
Superior industry-grade equipment
Maid in Hoboken
offers professional carpet cleaning and adheres to the following six steps listed below:
Removal of dry soil. A deep vacuuming is performed, using agitation and high quality filters to remove a large percentage of particulate.
Applying a preconditioning solution. This solution is designed to separate the soils from the carpet fibers.
Agitation of the preconditioning solution. Agitation ensures maximum contact between the solution and the fibers.
Soil removal with a hot water rinse. There is a reason that this is the most commonly used method of soil extraction – a hot water rinse is a highly effective method of soil removal. A truck mounted, high efficiency system is capable of removing both the cleaning solution and any particulates residing in your carpet.
Grooming. Used to improve the overall appearance of your carpeting, grooming can help restore the pile and eliminate any matting.
Drying. This is a critical step in the cleaning process, as a damp carpet can cause odors or accidents and attract soil. Most carpets take between two and six hours to thoroughly dry.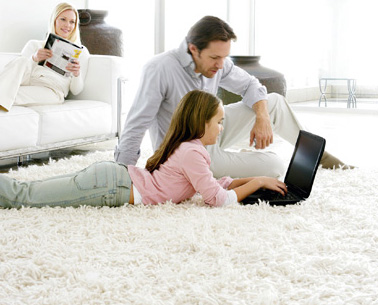 Improve The Look Of Your Home
Remember how your carpet looked the day it was installed? Its visual appeal is due largely in part to the cleanliness and fullness of the fibers. As life happens in your home, so do spills and stains in addition to foot traffic. A deep cleaning can refresh and renew the look and feel of your carpet and your home. Not all carpet cleaning services are created equally; choose a carpet cleaning company with a great reputation for service and excellence.
At Maid in Hoboken we are dedicated to providing our clients with superior service. Give us a call today.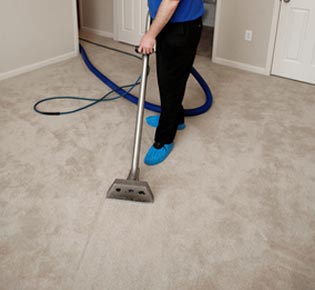 Good Health
Your carpet acts as a filter, trapping airborne particles, allergens and contaminants and preventing them from recirculating through the air. Like other types of filters, it will eventually reach a saturation point. For those who suffer from allergies this is of particular concern; carpets that can no longer filter allergens will reintroduce them with each step, reducing indoor air quality. While routine vacuuming is essential to removing surface dirt and debris, even the most powerful household vacuum can't remove it all. A professional cleaning gets deep down into the fibers, releasing particulates and removing them for good.
Professional Deep Carpet Cleaning From The Experts at Maid in Hoboken
At
Maid in Hoboken Carpet Cleaning
, we also know that every cleaning situation is unique. That's why we begin our carpet cleaning services with a complete analysis of your carpet, noting any heavily-soiled or high-traffic areas in your home or business. Then our Hoboken cleaning specialists use our highly-effective hot- water extraction method to remove ground-in dirt and debris that may or may not be visible to the naked eye leaving your carpet soft and feeling brand new. Nothing feels better under your feet or improves the look of your home like clean carpet. The number of people and pets in your household will determine how long your carpet looks and feels great, as everyday contaminants such as dirt, dander, hair and dust accumulate in the fibers. Bring new life back to your flooring with expert carpet cleaning services from Maid in Hoboken.
Get a Quote