By rmalaski | Leave a comment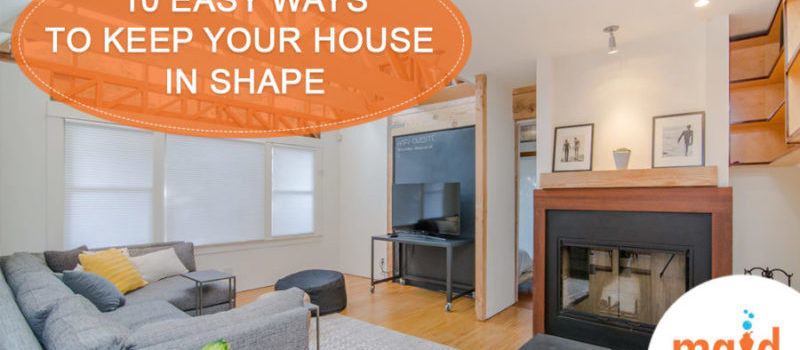 Maintaining a clean and orderly home can be as easy as 1, 2, 3! Doing so doesn't require you to cancel all your appointments to free up your schedule for housework. Besides,  you really don't need to spend all your energy doing housework. What you need are 10 easy ways to keep your house in shape! Learn the best way to get organized at home. Let's get started!
10 Daily Tips to Get Your Home Clean and Organized
Make the bed.
Did you know that the benefits of making your bed every morning go way beyond keeping your room orderly and tidy? Even though it seems like a small task, it helps to start the day off in a good, productive way and at the end of a long tiring day, a nicely made bed is more inviting than an unkempt one.
Load the dishwasher.
Make it a habit of loading the dishes and pans in the dishwasher as soon as you finish eating. Don't wait for them to pile up, just doing that small step will help to keep your kitchen looking clean even if you don't have enough dishes to run the dishwasher.  Then when it is full, you can turn it on and wash the dishes!
Keep kitchen counters clean.
Just as taking care of the dishes after you eat, it's also necessary to practice cleaning as you go in cooking. Keep your kitchen counters clear of all unnecessary clutter throughout the day. Resist the urge to make your countertops or tables a drop off place for magazines, mails, keys, and all other things. Make sure your counters are fully functional for your cooking and only keep those things that are used every day on them.
Wipe down the bathroom.
Every time that you bathe,  you can also do a quick wipe down. Clear off the countertops and put away anything that is not needed on it.  Wipe around the areas of the sink to remove spills, water rings, or loose hair. Use a shower cleaner to give your walls a good cleansing and a squeegee to remove excess water. Check the trash can and empty it if it is full.  You can also do a quick wipe of your bathroom floor with your bath towel before you toss it in the laundry.
Do a load of laundry.
A home can look messy and unorganized with piles of laundry lying around. Put laundry baskets in each bedroom, possibly in the closet so it is not noticeable when you enter the room.  You could also have another basket in the laundry room itself for those washcloths and towels from the kitchen and bathrooms. Depending on how many reside in your home, you may need to do at least one load of laundry a day–washed, folded, and put away.  If you have children, teaching them to fold and put away their own clothes, is a good first step towards learning adult responsibilities.  Older children can learn how to do their own laundry.   Just schedule a day for each child and also one day for doing the bedding any other items that may need washing.  The washcloths and towels can be thrown in with any small loads.
Declutter.
Now, decluttering plays an essential role in keeping your home in shape. Any clutter or mess that you come across during the day needs to be picked up or thrown it away. Recycle those things that can be, putting the recyclables out for the trash and donating any unused stuff. Put away anything that should not be left out.
One of the decluttering tips for home if you have school-age children, have one spot for them to leave their book bags and lunch boxes so that you can check them every day and designate another location for storing them.
Sweep and mop the floor.
For a small household, you may only need to sweep the floor once or twice a week and mop every other week, but if you have children and pets—you should sweep every day and mop at least once a week.  Use microfiber pad mops to save you time and money. With microfiber pad mops, all you need is clean water and a small amount of your favorite cleaning solution. 
Wipe your windows clean.
When it comes to cleaning your windows, use a streak-free glass cleaner but don't spray on too much. You can also mix one part hot water to one part distilled vinegar and use a sponge, paper towels,  or a squeegee to clean. If using a squeegee, always dampen the squeegee first then clean from top to bottom, wiping the edge of the squeegee after every stroke.
Plan for the next day.
It's not your house alone that needs to be organized; you should be too! Make a list of the things you need to do for tomorrow, there may be cleaning tasks that are needed and not completed today. It saves time and energy, plus makes the job easier to finish!
Hire a trusted professional cleaning service.
The best way to keep your home tidy and orderly is through getting an extra hand! By hiring a professional cleaning service weekly or bi-weekly, or even any schedule that works for you, you can have your home in shape!
Tags: decluttering your house checklist, how to clean and organize your house in one day, how to organize your home on a budget, how to organize your home room by room