By rmalaski | Leave a comment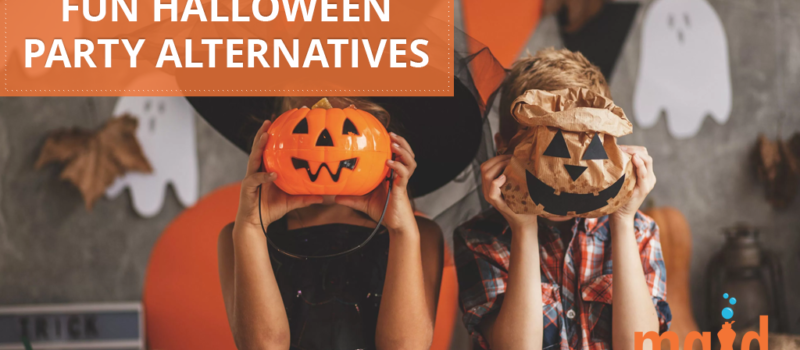 Having a Halloween Party in your home can also be a drag. After the festivities, all you end up with is a huge mess to clean up. Sometimes, it even results in having professional cleaners come to your home to clean up after the fact.

Thinking of the pros and cons of putting so much effort in celebrating Halloween, it can lead you to get exacerbated with the whole holiday altogether. To avoid this from happening, you should find something else to do this Halloween. Think of what can you, your family, and close friends do instead in celebrating the Halloween this year?

Here are a few suggestions:
Celebrate a different holiday instead
Are you aware that October is known as the month that celebrates Cookies and Pizza? I bet you didn't, right? Aside from the mainstream celebration of Halloween, why not celebrate
National Pizza Month
and
Cookie Month
instead. There are a lot of other notable holidays you can choose to honor. Halloween has hogged the spotlight for far too long. Want to know more about the different commemorations going on this month?
Check it here.
Clean Your Home
What better way to spend a day, where your kids are out and about trick-or-treating than to clean your home thoroughly. With the little ones out of the house, you have free reign to dust, sweep, and wipe the entirety of your home. It is one of those opportunities that allow you make your home clean and neat. And if you play your cards right, it can even be a fun family activity.
Indulge Yourself with a Netflix Marathon
Always wanted to get into Game of Thrones mythos or Stranger Things hype, but never found the time? Well, here's your chance! Spend your Halloween night to binge watch with your family and friends anything, and everything you have always wanted see. You can also write down all the movies you want to watch and put them in a box. Then, you randomly draw the title of the film will see next. To make it more interesting, you can have a Film bingo about quotable quotes, hidden easter eggs, and movie mistakes found in the film you watched. Prepare some popcorn, plop some comfy pillows, dim the lights, and go all night taking down shows and movies off your movie watch list. If you are to watch horror and gore movies, prepare for potential nightmares it might bring.
Go On a Reading-binge
So, how many books have you crossed off your must-read list? If you are tired of what's on TV, you can use this opportunity to grab a book and start reading. Pick a comfy chair or reading spot, and make sure that you have all the light you need. Then, make sure you have the essential props:
a blanket when it gets chilly

reading glasses, if you wear them

a tall glass of your favorite beverage of choice

An electronic reading device like a Kindle (as a backup once you finish reading your physical books)
Have a Friendly Video Game Tourney
It is time to release your inner gamer! Bring out your game consoles and prepare a balls-to-the-wall, no holds barred, video game tournament. Choose any game and compete with your friends and family for the title of the ultimate gamer. Show your shooting prowess with Duck Hunt. Bring the heat to the dance floor with Dance, Dance Revolution or the Dance Central series. Flaunt your athletic side with Wii Sports or Kinect Sports. Dominate the fighting arena in Tekken Tournament, Street Fighter, or Killer Instinct. Showcase your driving skills in Mario Kart, Forza Horizon, or Crash Cart. Whether you have the classic Super Nintendo, Gamecube, and Sega Genesis or the latest PlayStation 4, WiiU, and XBox One, it will be a blast.
Go to Bed Early
For many, it is a tradition to stay up all night and party till you drop. Be a rebel! Just simply go to bed early. After many years of celebrating Halloween until the break of dawn, why not use the opportunity to rest. Take the time to recharge your body. It is like taking a long-deserved vacation but in the comfort of your bedroom. It is way less expensive and good for the body too. I mean, who among us is not unceasingly sleep deprived anyway, right?! Take it as a special treat for both your mind and your body.