By rmalaski | Leave a comment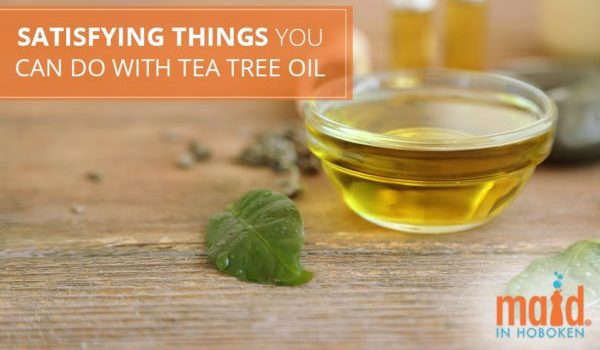 If you don't know it yet, tea tree oil is widely used because of its potent antiseptic properties. Because of this, it can also treat wounds. Neat right? But as if that's not enough, tea tree oil has blessed us with even more benefits.
In this article, you'll find out more about the satisfaction that tea tree oil gives. But if you're a little doubtful, how's a hundred-year-old usage sound? Yes, it's been helping countless people for 100 years! So, without any more delay.
Here are the things you can do with tea tree oil:
Satisfaction #1 Get rid of dandruff
Say goodbye to your dry and itchy scalp. Tea tree oil is here to rescue you! If you're tired of trying innumerable "anti-dandruff" shampoos, then try this remedy. All you have to do is grab an 8 oz. bottle of shampoo and add ten drops of tea tree oil in it.
After mixing them, apply it directly to your scalp. Massage your hair and let it sit for about 5 minutes. Fair warning though, don't use tea tree oil directly on your scalp. Undiluted oil may irritate you since it's a highly concentrated liquid.
Bonus tip:
Add five drops of the oil to your kid's shampoo. It can serve as a treatment for head lice.
Satisfaction #2 Helps get rid of acne
If there's anything worse and more difficult to remove than dandruff, it's acne. It's estimated that 85% of teenagers suffer from acne at some point during their puberty stage. Suffice to say; almost everybody has been through it. But practically no one knows the best way to fix it.
You'd wish you've known this before, though. After washing and drying your face clean, dab a drop of tea tree oil on your trouble spots and leave it on them overnight. It will help destroy the acne-causing bacteria and reduce the swelling.
Bonus tip:
If you've been suffering from acne for a long time and have used countless products, then it's time to stop what you're doing. One of the reasons why you have acne is because your skin is sensitive. So using strong chemicals to get rid of the acne problem only makes things worse!
Try to use a mild facial cleanser and always use a fresh towel to dry your face. Then, proceed to use tea tree oil as your combat system. And try not to touch your face too much. It may take a while before they all go away, but you have to be patient. You'll get that clear skin soon enough.
Satisfaction #3 Air Purifier
Get rid of those canned air "fresheners" which are bad for both your health and the environment. And if you already own a humidifier or purifier machine, then add this simple tip for optimal decontamination.
As simple as placing a few drops of tea tree oil in an oil diffuser. It will deodorize and disinfect your indoor air in the most natural way. It removes bacteria, virus, and other germs while leaving its fresh scent.
Bonus tip:
tea tree oil aromatherapy can help to reduce anxiety and improve your sleep. Don't believe us? Then
check out this link
and read more about it!
Satisfaction #4 Household cleaning spray
Apart from cleaning the air, you breathe, tea tree oil can also be used to clean your home! One of the best homemade cleaning products there is, you can use tea tree oil to disinfect surfaces in your home.
All you have to do is mix ten drops of the oil with 2 cups of hot water and half a cup of white vinegar. Mix it well and spray it on the problem areas. Be careful not to use it on granite and marble, though. The vinegar can dissolve the stone.
Bonus tip:
Are busy and have a tight schedule at work? Do you rarely have sufficient time and energy to clean? Then why don't you hire a
professional maid service
? They know how to get things done the right way. Plus, they only use eco-friendly cleaning products like your tea tree oil cleaning spray!